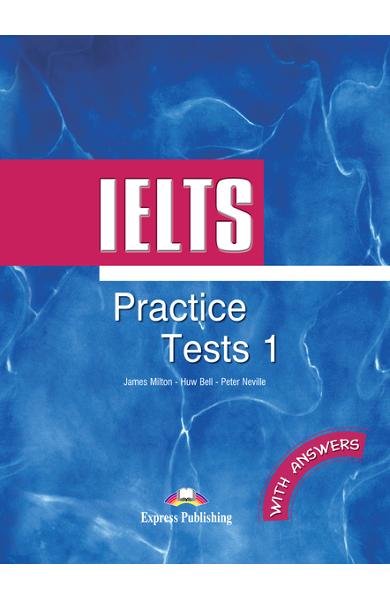 Teste limba engleza ielts Practice Tests 1 cu raspunsuri
98 Lei

(TVA inclus)
Costul de livrare se calculeaza odata cu adaugarea produsului in cos si selectarea localitatii destinatie.

Cod produs: 978-1-84216-751-9

Editura: Express Publishing

Producator:

Nivel: Advanced

Nivel CEF: C1

Disponibilitate: Produs in stoc
Conţine 4 teste complete pentru pregătirea examenului IELTS. Include o introducere asupra
secţiunilor examenului, a modalităţii de notare, indicaţii pentru îndeplinirea cerinţelor
de examen, modele de eseuri pentru modulul de scriere şi două modele de răspuns pentru proba
orală. Testele au format de examen şi asigură o pregătire şi o consolidare sistematică şi
aprofundată a cunoştinţelor necesare. Activităţile de consolidare şi recapitulare sunt
menite să dezvolte abilităţile pentru cele 4 secţiuni ale examenului – Listening, Academic/
General Training Reading, Academic/ General Training Writing şi Speaking. Acest curs combină
în mod eficient prezentarea funcţională şi clară a elementelor de gramatică şi vocabular cu
o varietate de exerciţii şi de tematici. Mai conţine cheia testelor şi modele de foi de
răspunsuri la examen, fapt ce permite familiarizarea cu foile de răspuns la secţiunile de
citire şi ascultare.
The International English Language Testing System (IELTS) examination is taken worldwide by those who plan to attend English speaking universities. Written by experienced IELTS examiners, these books contain practice test material for the revised IELTS exams. Four complete tests are provided in each volume with reading and writing tests for both the Academic and the General Training versions of the tests.
The Student's Books contain an introduction to the format of the test, as well as details of each of the four sections into which the test is divided: Reading, Writing, Listening and Speaking. Class Audio CDs contain the revised listening materials. Practice answer sheets are also included, as well as preparatoty materials for the Speaking component. The Book with Answers contains explanations of the grading and marking system used in the tests, answers to multiple choice and cloze questions, and example answers to essay questions and spoken tests.
Key Features
Four (4) complete tests for the Academic module, with two (2) separate Reading and Writing sections for the General Training candidates.
Full transcript of the Listening Section.
The Listening tests follow the style and timing of the actual exam, and the recordings feature a variety of different accents.