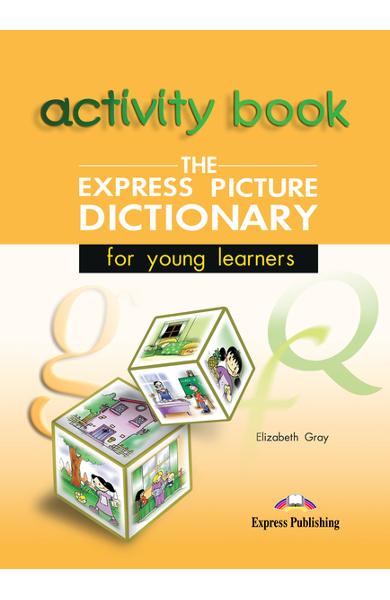 Dicționar ilustrat The Express Picture Dictionary Caietul elevului
Produs indisponibil momentan. Pentru comenzi va rugam trimiteti mail la adresa bookshop@uniscan.ro sau contactati-ne la numarul de telefon 021/2245080, 021/2245026 Vedeti mai jos alte produse similare disponibile.

Cod produs: 978-1-84216-610-9

Editura: Express Publishing

Producator:

Autor: Elizabeth Gray

Nivel: Beginner

Nivel CEF: A1

Disponibilitate: Indisponibil
Conţine o serie de activităţi pentru învăţarea limbii engleze: de desenat, de completat, de
descoperit, de asociat, de colorat, de ascultat, de descris etc., destinate consolidării
cunoştinţelor asimilate în urma studierii manualului elevului Express Picture Dictionary.
Interesul copiilor pentru învăţarea limbii engleze este stârnit şi susţinut şi prin
intermediul ilustraţiei color atractive, activităţilor ce fac referire la propria persoană
şi a tematicii legate de mediul apropiat, cum ar fi: familia, şcoala, activităţi zilnice etc.
Sunt incluse pagini cu abţibilduri pentru a fi utilizate în cadrul activităţilor, dar şi
pentru acordarea unor calificative (excellent, fantastic, well done, great, brilliant), al
căror rol este de a-i încuraja şi motiva pe cei mici în procesul de învăţare a limbii
engleze. Se adresează elevilor din clasele primare.
This beautifully illustrated dictionary contains more than 1,500 words most needed by young learners. The book is topic-based and presents vocabulary through attractive pictures and meaningful text. With The Express Picture Dictionary students build vocabulary skills through fun activities, puzzles, games and tasks which are designed to motivate them and stimulate their imagination.
Key Features:
12 topic-based modules of 3-5 units each.
Lively presentation of vocabulary.
Fully illustrated double-page spreads.
Oral tasks and games.
Traditional and original songs.
Wide variety of exercises, listening tasks, puzzles and word searches.