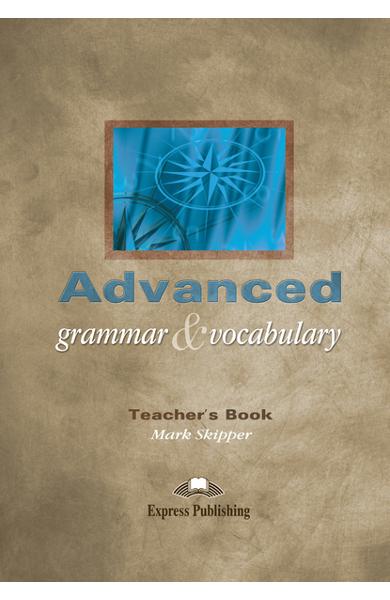 Curs lb. engleza - Advanced Grammar and Vocabulary TB
108 Lei

(TVA inclus)
Costul de livrare se calculeaza odata cu adaugarea produsului in cos si selectarea localitatii destinatie.

Cod produs: 978-1-84325-510-9

Editura: Express Publishing

Autor: Mark Skipper

Nivel CEF: C1

Disponibilitate: Produs in stoc
Curs pentru învăţarea limbii engleze de gramatică şi vocabular nivel liceal, clasa a XI-a,
sau pentru pregătirea examenului Cambridge Advanced sau a unui examen similar. Este
structurat în 116 unităţi de învăţare, fiecare corespunzând unei ore de curs. Activităţile
de consolidare şi recapitulare sunt organizate în ordine alfabetică în funcţie de
temă şi aria lingvistică, iar fiecare pagină de exerciţii este însoţită de o pagină de
prezentare cu explicaţii, fapt ce îl face uşor de utilizat atât în clasă, cât şi în studiul
individual. Acest curs combină în mod eficient prezentarea funcţională şi clară a
elementelor de gramatică şi vocabular cu o varietate de exerciţii stimulante şi interesante.
Abordarea materiei dintr-o perspectivă holistică, prin ascultare, citire şi explicaţii
detaliate au rolul de a facilita deprinderea abilităţilor necesare pentru acest nivel.
Manualul conţine secţiuni de vocabular organizate tematic, acoperind arii diverse cum ar fi:
corpul uman, îmbrăcăminte, alimente, educaţie, vremea, sport etc. şi secţiuni de gramatică,
cu explicaţii şi analiză a elementelor de gramatică, precum: verbe modale, inversiuni,
gerunziul şi infinitivul, structuri emfatice etc. Include o varietate de texte utilizate în
secţiunile practice ce asigură recapitularea şi consolidarea cunoştinţelor acumulate într-o
manieră plăcută. Interesul pentru învăţarea limbii engleze este stârnit şi susţinut şi prin
intermediul materialului de ascultare care integrează gramatica în context şi ajută la
înţelegerea structurilor. Mai include cheia exerciţiilor şi sugestii de răspunsuri. Se
adresează atât elevilor, clasa a XI-a, cât şi adulţilor, nivel avansat.
Advanced Grammar & Vocabulary is a comprehensive Use of English manual for students preparing for the Cambridge English: Advanced (CAE) and Proficiency (CPE) examinations ar any other EFL examination at a similar level. It combines clear and functional presentation of grammar and vocabulary issues with a huge variety of challenging and stimulating exersices. Its unique item-by-item approach makes it ideal supplementary classrooom material, and its simplicity of design makes it an invaluable tool for self-study. Advanced Grammar & Vocabulary takes a holistic teaching approach, using listening, reading and detailed notes to help learners master all the skills needed at this level.